Wonderful people Wonderful musicians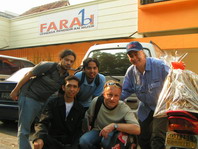 'VE got the chance to accompany the Swiss Duo in Jakarta – a session during their 3 cities tour. Generally spoken language
me: Tarzan
them: Swiss-German & good English
They had been in Jakarta a day earlier before I was introduced to them at ZOOM lounge (5/10). The first job of the day was sound check. We had to rent a bigger grand piano for Mazzola, while Geisser would use the available drums set. Geisser preferred to have the DW used than the Tama set – It had a vintage sound I supposed, with smaller kick and everything. Geisser was always bringing around his own cymbals though.

After lunch we headed to a new Farabi branch for the workshop. Some of the known teacher who were there were Dwiki and Adi Dharmawan. The whole building was brand new – you could smell the wood-coating scent, adhesive, and paint-mixture odor. The Actis Dato from Italy had had a master class there just the other day. From the sticker label "SOLD" on the piano, I guessed we were the first one to use it. As Mazzola had done in the morning, he removed the vertical front piano cover. Being uncovered, he started cleaning all the keys mechanism. He said that he always did!

A final sound check – this time would be with the installed video art – at ZOOM was next on the breakdown, so we traveled again. Around Setiabudi – we were taking shortcut – Geisser caught a tukang parkir in the act and asked, "That man over there… is he doing a job?" Just figure out yourself what my answer was – after going through a long explanation about beloved Indonesia :)

If you've heard contemporary music, well, there is more to it with this Swiss Duo. They are doing their own delicate free jazz. If I must say: sophisticated. It is not that you'll go to see them every weekend in a regular gig. Mazzola has been doing music for almost 50 years and been through classical work, bebop, until he felt like doing his own music, not Coltrane's nor others. Mazzola's playing today is very unique just like swirling wave – if you know Maksim's interpretation on the Bumblebee, you'll probably get the idea. By the way, Mazzola is a math professor and has published books which relate math and music; these books are of some 500 pages thick.

About how to enjoy their pieces, they suggested, "Listen as a child, when we've reached 20, our ear has been so constructed in a fixed way of hearing… be open" – I sensed an idea of deconstruction here, post structuralism maybe?
"Music… is…universal… universal doesn't mean that it is easy." They've reached a level of interplay where they couldn't hear their own playing; Geisser would hear more of Mazzola's to his own. It was a bit contradictive to what was heard.
There is more to an effort for listening to their playing. As far as I'm concern, most European jazz weren't easy even for experienced audience – I've been to some of their performances in Indonesia. The tricks are: leave any prejudice behind (this includes not leaving your seat for the first 25 minutes); don't expect anything, be open; you'll have the effects just on the way home when you are listening music from the usual-everyday radio show, it'll probably going on until the next morning.
---